#6808 17 inch Stuffed Animal Pattern - Plush Sheep

---


Bonnie the Sheep is here to help your little one count their z's. This stuffed animal pattern is for 17 inch sheep complete with guy & gal clothing patterns & instructions(Pants, vest, shirt, dress, romper, collar, apron). When fully stuffed, these small Homestead Greeters freestand nicely while wearing small toddler shoes. FREE shipping to USA & CANADA.

Also available as an instantly downloadable Epattern for only $3.99!



Check out our other cow, teddy bear, pig, rooster, hen, hobby horse, donkey, moose, reindeer, cat, and mouse plush patterns!


Approximate shipping time from order placement to delivery: 1 week
In Stock - ships daily by USPS 1st class mail.

Click "Add to Cart" button below to order.





NOTE: This pattern is also included in the combo package below
Product Spotlight - Small stuffed animal 8-in-1 combo $16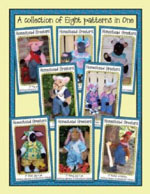 Save 75% off on our best deal ever! With our 8-in-1 small stuffed animal combo package, you get 8 of the most popular 17" tall Homestead Greeters™ stuffed animal designs on 2 huge poster-size pages for only $16(a $64 value). Free shipping included to USA and Canada. Plush pig, horse, mouse, cat, cow, sheep, bunny, and rooster included.