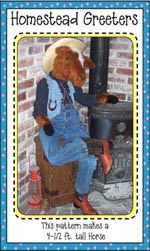 Carl the Horse 54"




CHECK OUT THESE
OTHER HOMESTEAD GREETERS
SEWING PATTERNS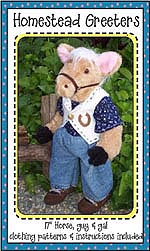 Andy the Horse 17"


Saratoga Springs NY visitors guide
Saratoga Racetrack Network is your one stop site for all the information you need to plan your next horseracing vacation at Saratoga Springs, New York. At SARATOGARACETRACK.NET, you'll find daily updated information on events, live webcams, restaurant reviews, and more in our comprehensive online visitors guide.
CLICK ON LINK BELOW TO VISIT SITE:
SARATOGARACETRACK.NET- Saratoga NY visitors guide






---


Funny horse photoblogs
Take a walk on the equine side at our LOLHORSES.COM and HORSEFACED.COM photoblogs. Turn you horse into an instant internet celebrity by posting a funny photo of him. Then turn the camera back on yourself and make a horseface for all the world to see. Join the fun making and rating horsey photos. Free and no registration required.
CLICK ON LINKS BELOW TO VISIT BLOGS:
LOLHORSES.COM- Funny horse pictures

HORSEFACED.COM- Make a horseface!